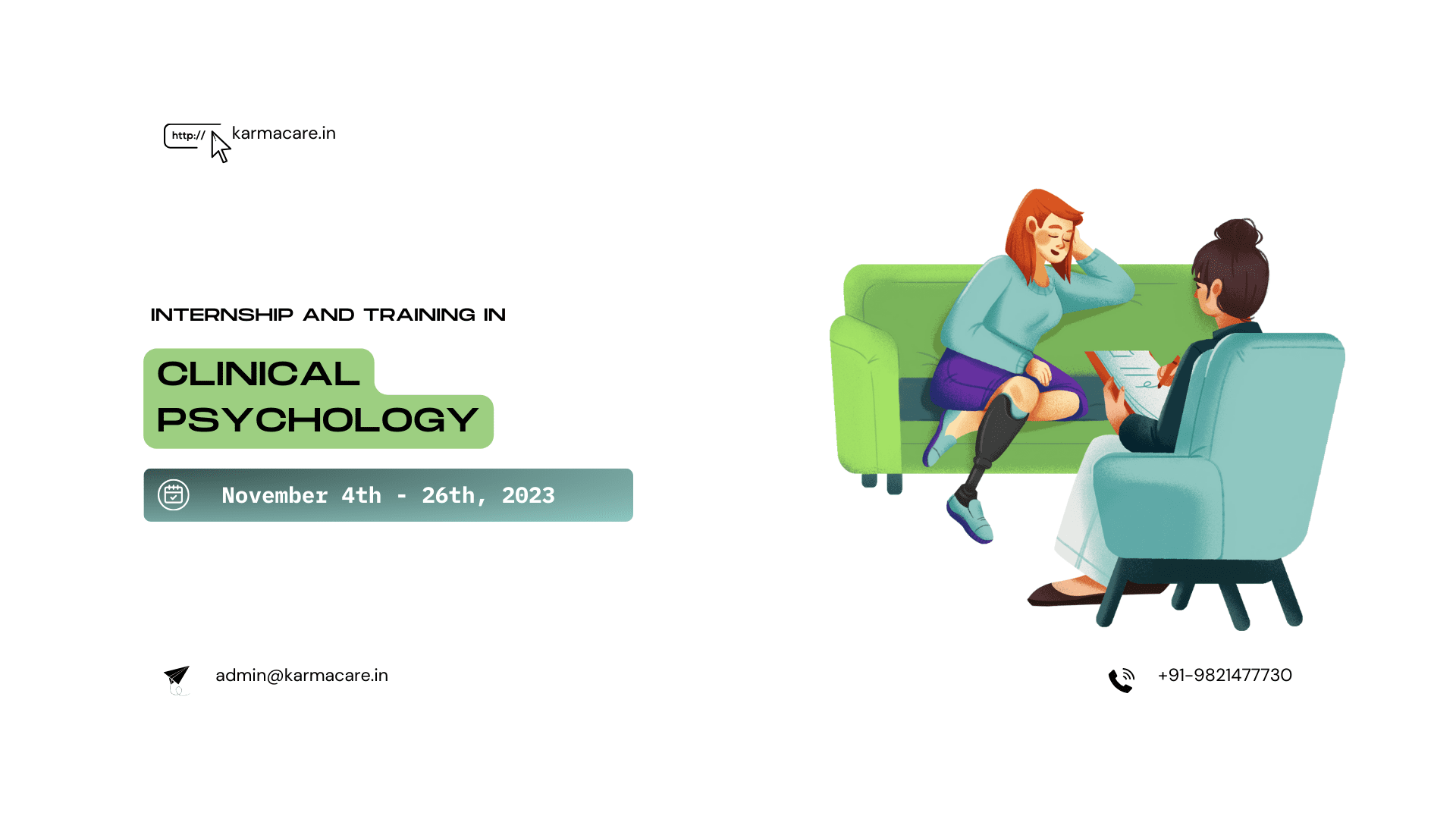 Date
Nov 04 - 26 2023
Expired!
Time
Saturday - Sunday
3:00 pm - 7:00 pm
Internship in Clinical Psychology (32 hours)
Join our series on Clinical Psychology where different clinical disorders such as Neurodevelopmental, Schizophrenia, Dissociation, Substance Use and Mood Disorder will be taken up in detail to understand the criteria, clinical symptoms, course, etiology, prognosis and treatment along with other imperative topics such as case history, Queer Affirmative Therapy, and Kink Affirmative therapy.
Skills and Techniques in counselling Psychology along with 'How to conduct the first session' –

Having a foundational understanding of the micro-skills involved in therapy is necessary for every practitioner. These skills and techniques will help budding psychologists structure and plan their sessions. These classes will focus on role plays and giving each student a chance to enhance their therapeutic skills. 

Trauma-Informed

: This session will focus on the importance of being trauma-informed in counseling practice. Students will gain an understanding of how challenging and traumatic circumstances can impact individuals and their mental health. The session will include a case study and discussion to illustrate the practical applications of a trauma-informed approach.

Schizophrenia

– Schizophrenia is a complex mental health disorder marked by distorted thinking, emotions, and behaviours. In our course, we will explore the origins, symptoms, and evidence-based treatments for schizophrenia, emphasizing the importance of early intervention and comprehensive patient support.
Queer Affirmative Therapy –  

A lens that affirms the queer community and advocates for them. A pinnacle for Karma Centre's beliefs and missions. There will be an elaborate discussion on gender and sexuality and how we can be queer-affirmative in our practice. 
Mood Disorders –

Mood disorders refer to a group of mental health conditions characterized by significant changes in a person's mood, energy, and level of activity. These changes can be long-lasting and can cause significant impairment in a person's ability to function in their daily life. Major mood disorders that we will cover are Major depressive disorder, Bipolar disorder, Mania.