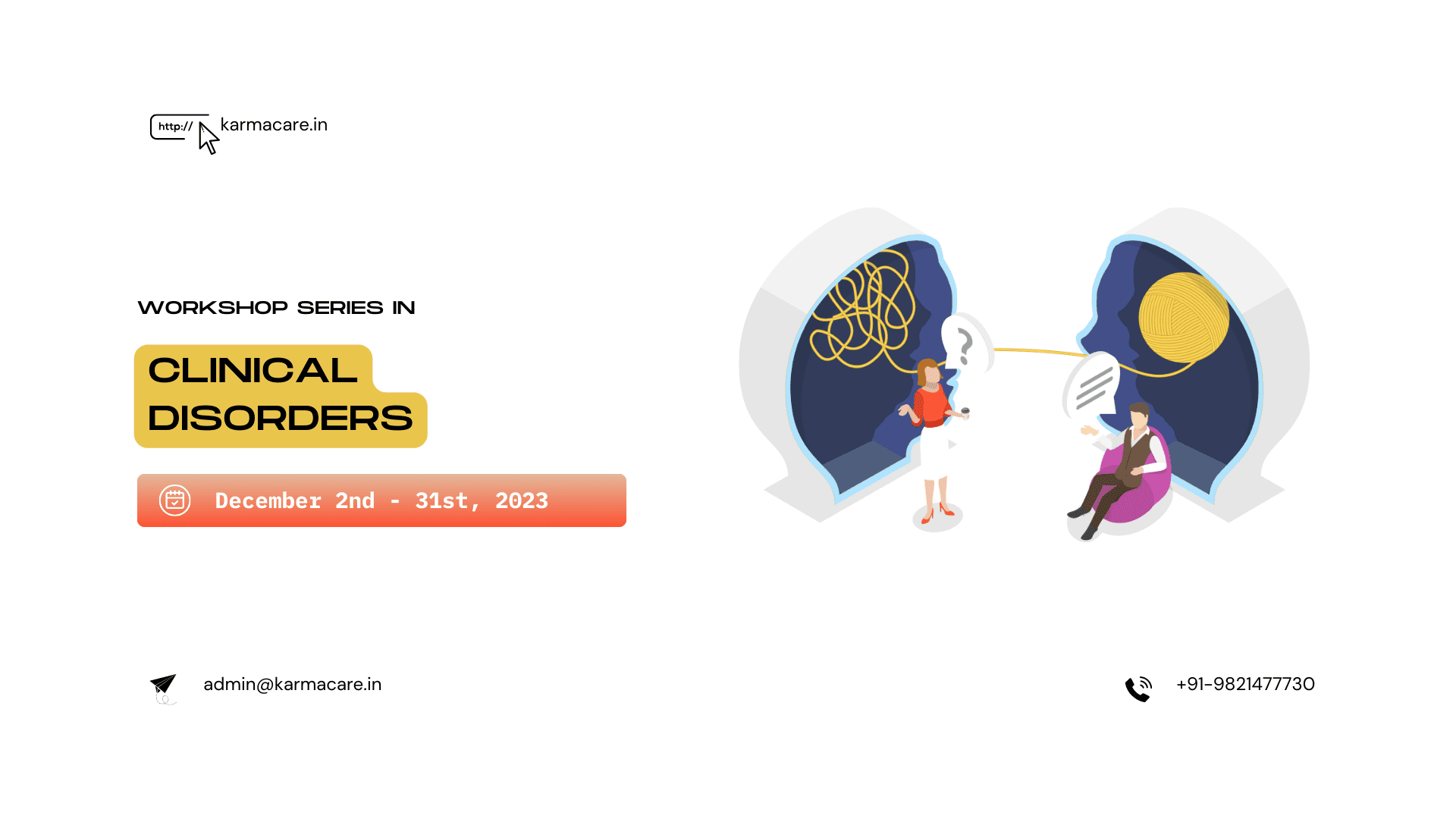 Date
Dec 02 - 31 2023
Ongoing...
Time
Saturday-Sunday
4:00 pm - 7:00 pm
Workshop Series in Clinical Disorders (30 Hours)
Clinical disorders encompass a wide range of conditions that affect cognition, behaviour, and emotions. Understanding these disorders, their assessment, and the ethical considerations surrounding their treatment is essential for mental health professionals. This workshop, is designed to provide an comprehensive overview of various clinical disorders, case history taking, mental state examination (MSE), and the ethical considerations and sensitivity required in the field. The workshop also highlights the intersectionality of these disorders, emphasizing the unique experiences of individuals belonging to diverse cultural and social backgrounds.
Overview:
Mood Disorders:

Depression and Bipolar Disorders: Symptoms, causes, and treatment options. Interactive sessions and case studies to understand the impact of mood disorders on individuals.
Neurodevelopmental Disorders:

Autism Spectrum Disorder, ADHD, and Learning Disorders: Characteristics and therapeutic interventions. Discussions on early intervention strategies for neurodevelopmental disorders.
Anxiety Disorders:

Generalized Anxiety Disorder, Panic Disorder, and Phobias: Identifying triggers, coping mechanisms, and treatment approaches. Group exercises to simulate anxiety and practice relaxation techniques.
Schizophrenia:

Schizophrenia: Symptoms and subtypes, causes, and modern treatments. Role-play scenarios to illustrate the challenges individuals with schizophrenia face.
Substance Use Disorders:

Understanding addiction: From physiological effects to treatment and recovery. Case studies and discussion on ethical considerations when dealing with substance use disorders.
Sexual Dysfunction:

Types of sexual dysfunction, including erectile dysfunction and sexual desire disorders. Open dialogue on the intersection of mental health and sexual health, led by experts.
Dissociative Disorders:

Dissociative Identity Disorder and Depersonalization Disorder: Symptoms and therapeutic approaches. Role-play exercises to explore the experience of dissociation.
Case History Taking and Mental State Examination (MSE):

The art of gathering patient information and conducting a comprehensive MSE. Hands-on practice and feedback sessions for attendees.