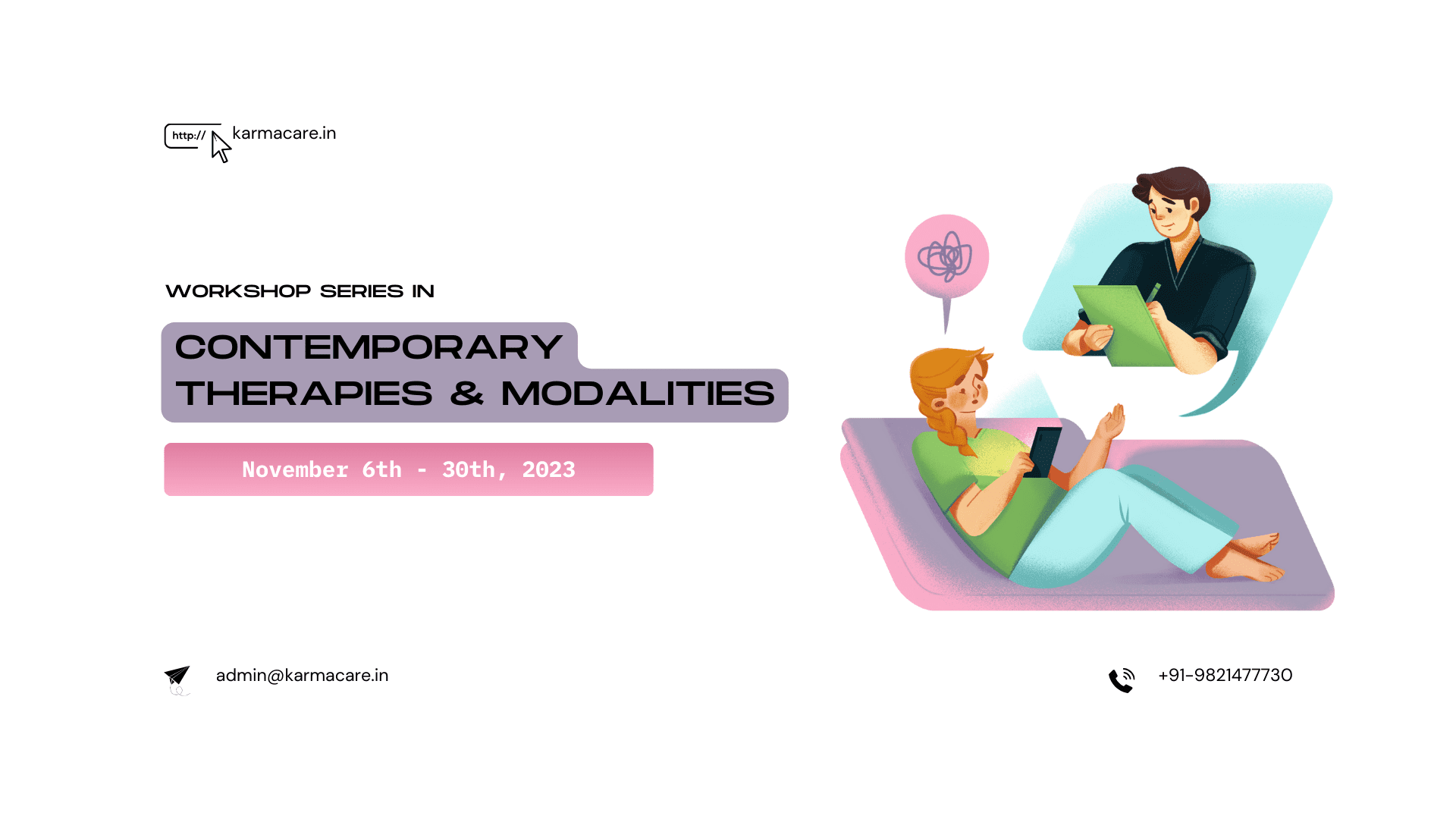 Date
Nov 06 - 30 2023
Expired!
Time
Monday - Friday
10:30 am - 1:30 pm
Workshop Series in Contemporary therapies & Modalities (60 hours)
Taking a shift in narrative, the contemporary therapies believe that realities do not exist independent of observational processes. This approach values the client's reality without disputing whether it is accurate or rational and any understanding of reality is based on the situations people live in. It takes a complete shift from the idea of there being an objective reality. This series will cover topics such as:-
Acceptance Commitment Therapy: This workshop explores the foundations of Person-Centered New-age psychotherapy. Acceptance & Commitment Therapy (ACT) equips the client to stop avoiding, denying, & struggling with their inner emotions &, instead, accept that these deeper feelings are appropriate responses to certain situations that should not prevent them from moving forward in their lives.
Cognitive Behavioural Therapy (CBT) – In this session, a broad understanding of cognitive behavioural therapy would be developed. It would involve understanding how it is practised in sessions and what are some key concepts that can be helpful in assisting the client through their daily functioning, by addressing their thought patterns and their behavioural manifestations.
Dialectical Behavioural Therapy (DBT) – Feeling intense emotions is a huge symptom for borderline personality disorder. Emotional dysregulation can be really exhausting for such individuals, which is why Dialectical Behavioural therapy works best for them. The session would involve a thorough understanding of DBT and the areas it addresses in a therapy setting. The key reflection would be acceptance, mindfulness and emotional regulation.
Narrative Therapy : Narratives that are constitutive of people's lives, their identities, and their problems are what occupy the centre stage in narrative therapy. Narrative Therapy applies to several concerns and mental illnesses: childhood disorders, eating disorders, schizophrenia, depression, marital conflicts, grief, bullying, and more. It looks at clients through the stories of their lives and believes that clients are the experts in the session. 
Feminist Therapy: Feminist therapy is a set of related therapies arising from what proponents see as a disparity between the origin of most psychological theories and the majority of people seeking counseling being female. It focuses on societal, cultural, and political causes and solutions to issues faced in the counselling process. Feminist therapy continues to be one of the most relevant contemporary therapies and this webinar will take you through its origins, application, and criticism.