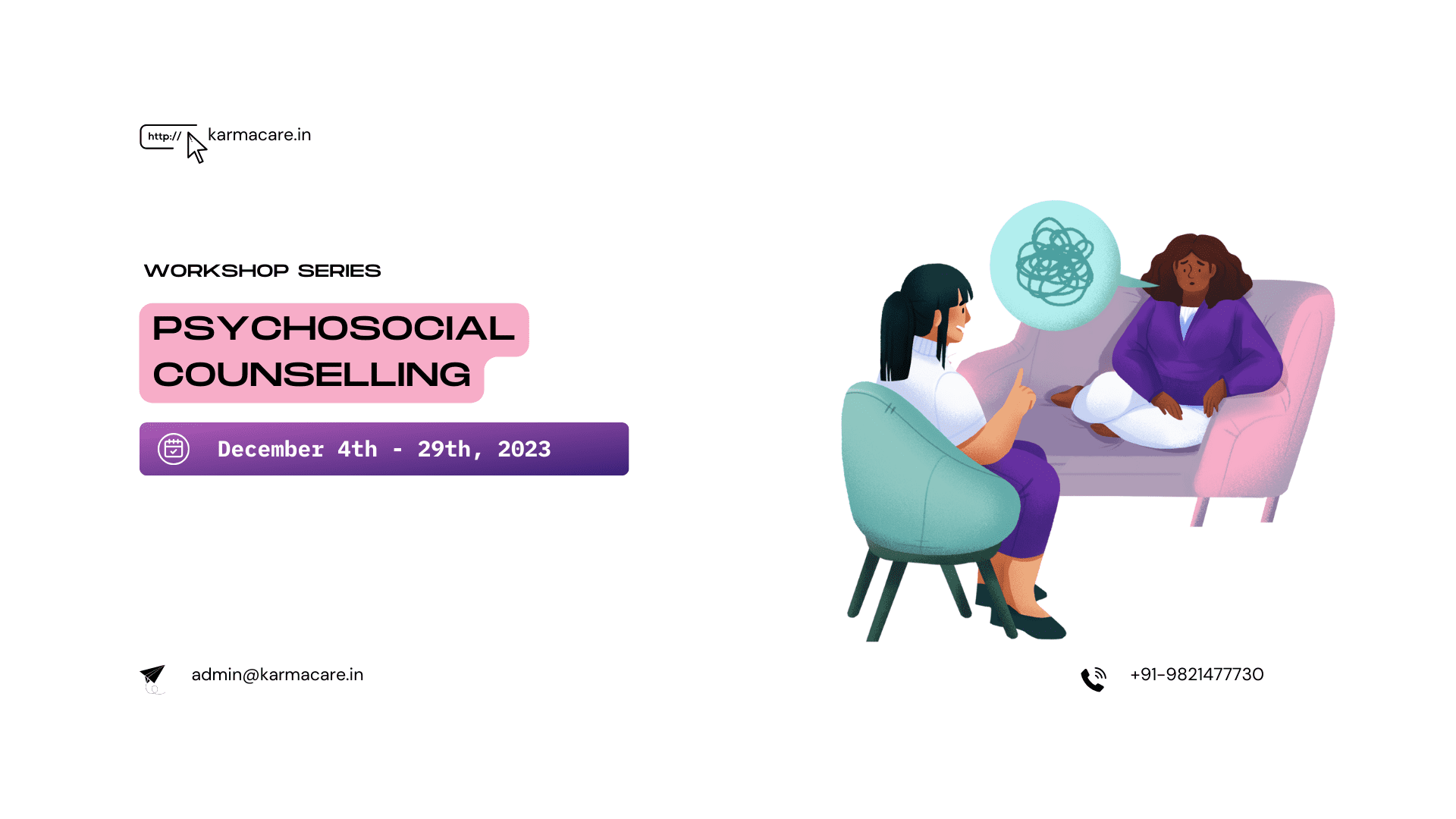 Date
Dec 04 - 29 2023
Ongoing...
Time
Monday - Friday
6:00 pm - 8:00 pm
Workshop series in Psychosocial Counselling (40 Hours)
The "Psychosocial Counselling Workshop"  offers a comprehensive and immersive learning experience for aspiring therapists and counsellors. Covering a range of vital topics, the workshop provides a deep dive into the essential skills and techniques required for effective counselling. Participants will explore diverse subjects such as self-identity, ethics, intersectionality, gender, sexuality, HIV awareness, power dynamics, and prejudice. Through interactive sessions, roleplays, and group therapies, attendees will gain practical insights into real-life counselling scenarios. The workshop also emphasises the importance of social context, self-awareness, and sensitivity in therapeutic practices.
Overview:-
Skills and Techniques in counselling Psychology – Having a foundational understanding of the micro skills involved in therapy are necessary for every practitioner. These skills and techniques will help budding psychologists structure and plan their sessions. These classes will focus on role plays and giving each student a chance to enhance their therapeutic skills.

Group Therapy

: Will delve into the intricacies of conducting therapy within a group setting. The session will involve interactive discussions elucidating the dynamics of group therapy. Furthermore, students will engage in role-playing exercises, simulating group therapy sessions. These role-plays aim to enhance their skills in facilitating group discussions and activities, fostering a deeper understanding of group therapy techniques.

The Self in Social Context:

focuses on exploring individuals' self-perception within the broader societal framework. Participants will partake in interactive activities and discussions, delving into the complexities of self-identity across various social contexts. The session will also incorporate role-playing scenarios where participants can examine how social factors influence self-identity. Through these activities, participants will gain insights into the multifaceted nature of self in social contexts.
HIV Awareness and Counselling:

Participants will acquire fundamental knowledge about HIV transmission, prevention, and treatment. Additionally, they will engage in role-playing exercises centred around counselling sessions with individuals living with HIV. These simulations will emphasize addressing the emotional and psychological needs of HIV-positive individuals, enabling participants to develop empathy and effective counselling strategies.
Queer Affirmative Therapy

– 

A lens that affirms the queer community and advocates for them. A pinnacle for Karma Centre's beliefs and missions. There will be an elaborate discussion on gender and sexuality and how we can be queer-affirmative in our practice. This session will include a case discussion.

Kink Affirmative Therapy (KAT)

– a space where participants would learn to provide non-judgmental, empathetic support to individuals exploring kinks. Discover how kinks intersect with identity, self-discovery, and mental well-being, fostering a holistic approach to mental health care. Through case studies, discussions, and ethical considerations, participants will gain valuable insights into creating a safe environment for clients to explore their kinks and enhance their emotional growth.