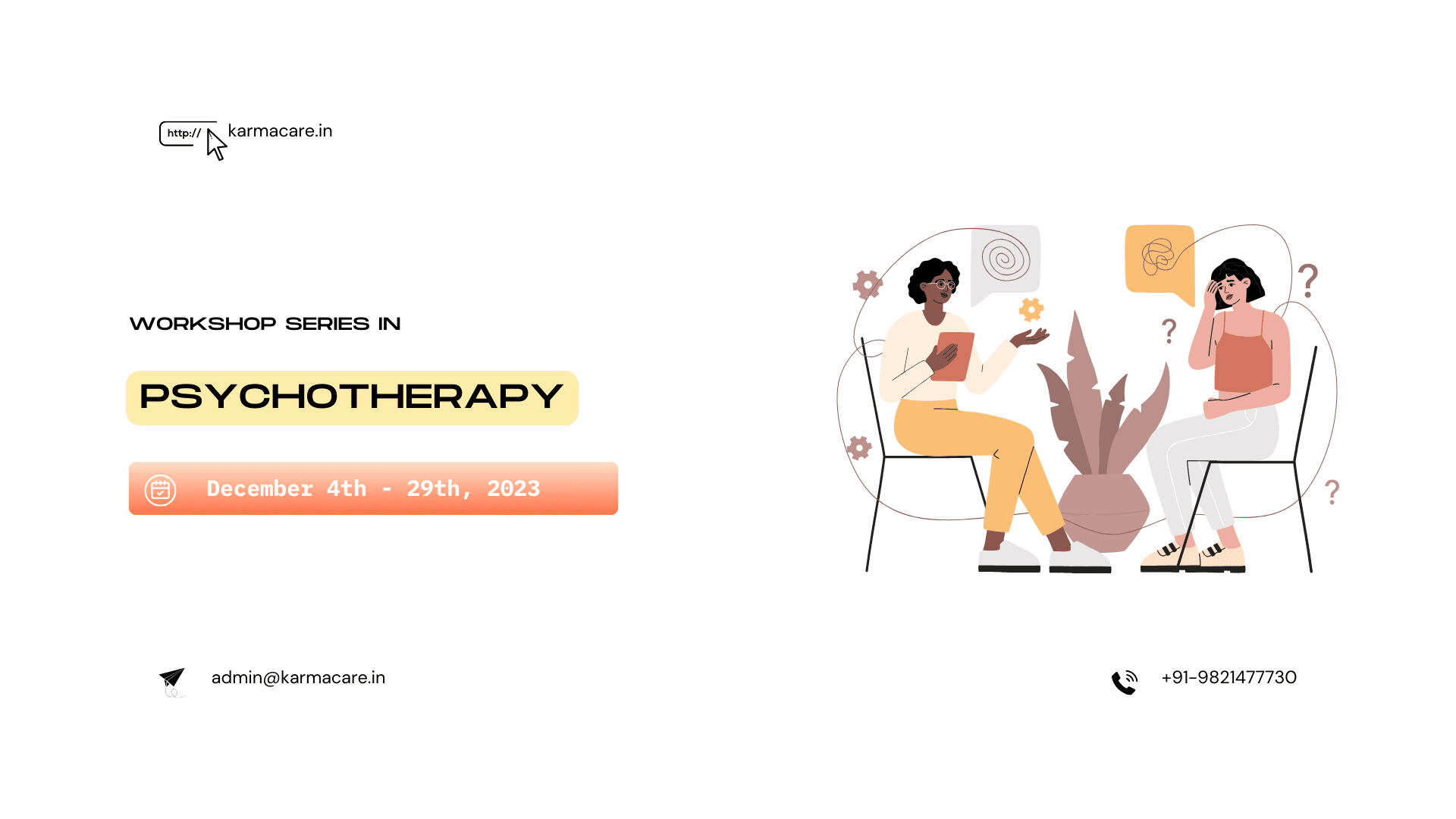 Date
Dec 04 - 29 2023
Ongoing...
Time
Monday - Friday
10:30 am - 1:30 pm
Workshop Series in Psychotherapy Series (60 Hours)
Clinical disorders encompass a wide range of conditions that affect cognition, behaviour, and emotions. Understanding these disorders, their assessment, and the ethical considerations su
The purpose of this workshop series is to connect theoretical knowledge with practical application in the field of psychotherapy. It seeks to familiarise participants with various psychotherapeutic methods and teach them on how to analyse cases using different therapeutic perspectives. The series emphasises skills such as taking case histories, conducting Mental State Examinations (MSE), understanding the therapist's role in the therapeutic setting, establishing strong therapeutic relationships, and working with clients while respecting their individual circumstances and perspectives. By engaging in case studies, discussions, activities and role-playing, attendees will grasp the principles, abilities, and techniques associated with diverse therapeutic approaches.
Overview:
Case formulation:

In these sessions, the focus will be on the case formulation process, with a strong emphasis on considering a range of factors including behaviour, environment, culture, as well as physical and mental symptoms. Participants will develop a thorough comprehension of how to analyse essential information and observations within a case.

Play therapy:

Participants will delve into the principles and practical applications of play therapy, learning how to create a safe and nurturing environment for clients to express themselves. Through interactive sessions and case studies, participants will gain valuable insights into using creative interventions to address emotional, behavioural, and developmental challenges in clients.

Therapies for sexual dysfunction:

Participants will explore the multifaceted nature of sexual health, understanding both physiological and psychological factors. Through interactive discussions, skill-building exercises, and evidence-based approaches, participants will gain a better understanding of sexual dysfunction as well as a variety of treatment approaches for the same. 

Dialectical Behavioural Therapy (DBT):

Dialectical Behavioral Therapy (DBT) is particularly effective for individuals with borderline personality disorder, as it targets the challenge of experiencing intense emotions. The strain of emotional dysregulation can be overwhelming for these individuals, making DBT a highly suitable approach. This session will provide a comprehensive grasp of DBT and its application within a therapeutic context. Central themes will include fostering acceptance, practising mindfulness, and developing skills for emotional regulation.

Motivation Enhancement Therapy (MET): The session is designed to equip participants with practical skills in helping individuals strengthen motivation for change. Through interactive sessions and experiential exercises, attendees will learn techniques to identify and address ambivalence towards change, enhance self-efficacy, and build intrinsic motivation. The workshop will also delve into the principles of active listening, empathetic communication, and collaborative goal-setting.